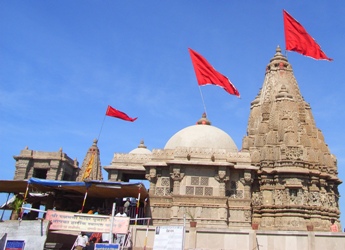 1.5 Kms from Dwarka on Okha Highway, on the banks of Bhagirathi River, is the Temple of Rukshmaniji, the Patrani of Lord Krishna.
You can stop here while going towards Bet - Dwarka.
Gomti Ghat : This is the place where Gomti River meets the Ocean, Pilgirms take the privialage here for a holy dip. if one wants then they can take a ferry and cross the Ghat and reach the opposite bank and visit the places of Pandavas.
Bet Dwarka :
Also known as Bet Shankhodar, was a full fledged port before the development of Okha Port. It was the residing of Lord Krishnas Queens. In the Temple of of the Bet, the idols of the queens such as Lakshmiji, Radhaji, Satyabhamaji, Jambuvantiji are main.
On the Island thre are 23 Shivalays, 20 Vaishnav Temples, 9 Hanuman Temples, 6 DeviTemples including other many temples.
The Old Shankhnarayan Temple is belived to be built around V.S 1774.
The Mahaprabhuji Baithak was built here by Shrimad Vallabhacharyaji in V.S 1535. There is also a place for Balramji.
Bet Dwarka is about 15 minutes ferry ride from from Okha port.
Okha Port: The natural harbour of okha was made into a port by the Gaikwad Dynasty ruler of Baroda, Shri Sayaji Rao Gaikwad on 14th February 1926. Before that in 1925AD,Jamnagar Okha railway line had become operational.
Before Okha port was developed, Arambhada was the main port and people used this place for going towards Bet Dwarka for pilgirmage. Mendarda Port was also used for the purpose.
Gopi Talav : Gopis used to take bath in this lake so its called gopi talav. the red mud aroundt the lake is called `Gopi Chandan' here there are small and big Dharamshalas, Anandabawa Ashram, Kabir Ashram and Birla Dharamshala.
Shardapeetha: Aadh Shankracharya in 491 AD, founded this peetha himself as the 4th peeth.
Aadh Sankracharya had founded 4 peeths for withholding the traditions of India.
Dwarka Shardapeeth operates Sharda Vidyapeeth Art College, an Indian Research Temple and a Museum.
Madhavpur: Lord Krishna and Rukshmaniji married in Madhavpura, which is 60 KMS from Porbunder. A large fair is held here in March – April.
Dehotsarg, at Treveni Ghat is believed to be the site of Lord Krishnas mortal incarnations cremation. The Ahir community women of this area wear black even today.