Further on the Barda Hills start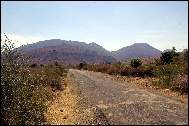 Barda Mountain Range is 16 Kms North South and 11 KMs East West
The summits are: Aabhpara, Dughiya, Kanmero, Dandiyo, Kileshwar. The highest summit of this range is Aabhpara at the height of 1938 Feet.
Here one can see the ancient settlements of Ghumli , the "Son kansaari "temples, drive up to Kileshwar temple,climb the steps to Ashapura tremple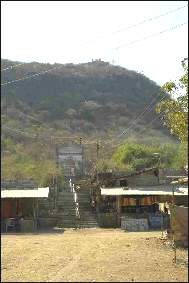 Ashapura Temple at Ghumli: According to folk lore, in the 14th century, Jam Unndji came from Sindh area with an army to conquer Ghumli, but he could not conquer, so after that his son Bamaniyaji came and surrounded Ghumli with a huge army, at that time, the king Bhaman Jethwa, escaped to Ranpur via the route of Kileshwar. So Bamniyaji attacked and destroyed Ghumli.
On the same night Goddess Ambaji came in his dream and told him that, as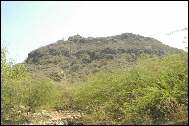 she has granted the wish "Asha" of his father to conquer Ghumli, he should make a temple in her name.
So Bamaniyaji built the Temple of Ambaji on the hill in the middle of Ghumli and named it as Ashapura Temple ( Ashapura means the granter of wishes)
Till today this temple is very popular among pilgrims, who climb up the numerous steps for paying homage to Goddess Ashapura.