Jain Temples..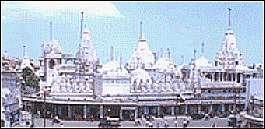 Vardhman Shah's Temple : The foundation stone for this temple was laid in 1612 during the rule of His Highness Jam Jasaji - I and completed in the year 1620. Surrounding this temple 52 'Deri' (a very small temple) were built in 1622.
Raisi Shah's Temple: Tejsi Shah built jain temples in 1564 which were ruined by Moghul army in 1590. Tejsi Shah renovated these temples in 1592. In the year 1619 his son Raisi Shah built 'Deri'(a very small temple) around it.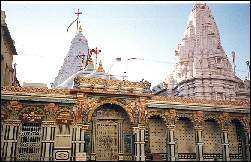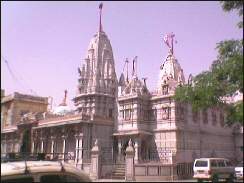 Sheth's Temple : Built in the year 1594 by Bhansali Abji.
Vasupujya Swami's Temple : They are believed to be built by Aaskaran Shah in the 17th century.
These temples form the centerpiece of the old city with its lovely buildings of wood and stone, adorned with pastel colored shutters and wooden balconies.
The area around this temples is called Chandi Bazaar, meaning Silver Market, full of silver and gold jewel makers.
Towers & Gates
The two towers of Mandvi & Pancheshwar and the Khambhalia,& Grain Market Gate, are the only signs remaining along with some parts of the great walls around the city which were built in the 17th Century by the Wazir Meraman Khawas also known as Meru Khawas, he was said to be very powerful Jamnagar was fortified and turned into a walled city by him. He was considered to be a dictator ruling over Jamnagar between 1744 to 1800 AD.
Jam Lakhaji when still a child married Dipabai, a Jhala princess of Halwad/Dhrangadhra, in her train came to Jamnagar Meru Khawas along with his brothers Nandji and Bhawan. And as Jam Lakhaji was quite young, Meru Khawas took all the powers and ruled over Jamnagar, after the death of Jam Lakhaji, Meru Khawas installed on the throne Jam Jasoji, eldest son of Jam Lakhaji, but he kept, as before ,all powers in his own hands.
His rule was vigorous and he made many additions to the state. He had fortified Jamnagar, by building around it, walls of white stone with 5 gates, 23 towers and 8 postern gates.